Introduction
SMS marketing has exploded in popularity over the last few years. People are always carrying and checking their mobile phones, so SMS presents a unique opportunity to reach huge audiences instantly. But sending SMS manually is tedious and ineffective. That's why smart businesses are turning to bulk SMS sending software to unlock the true power of SMS marketing. This revolutionary software automates the sending process, tracks results, and provides powerful features to create targeted campaigns that drive engagement. In this post, we'll explore the key benefits of bulk sms sending software, must-have features to look for, and the top 10 platforms available right now. Read on to transform your SMS marketing strategy with the robust capabilities of these bulk sending solutions!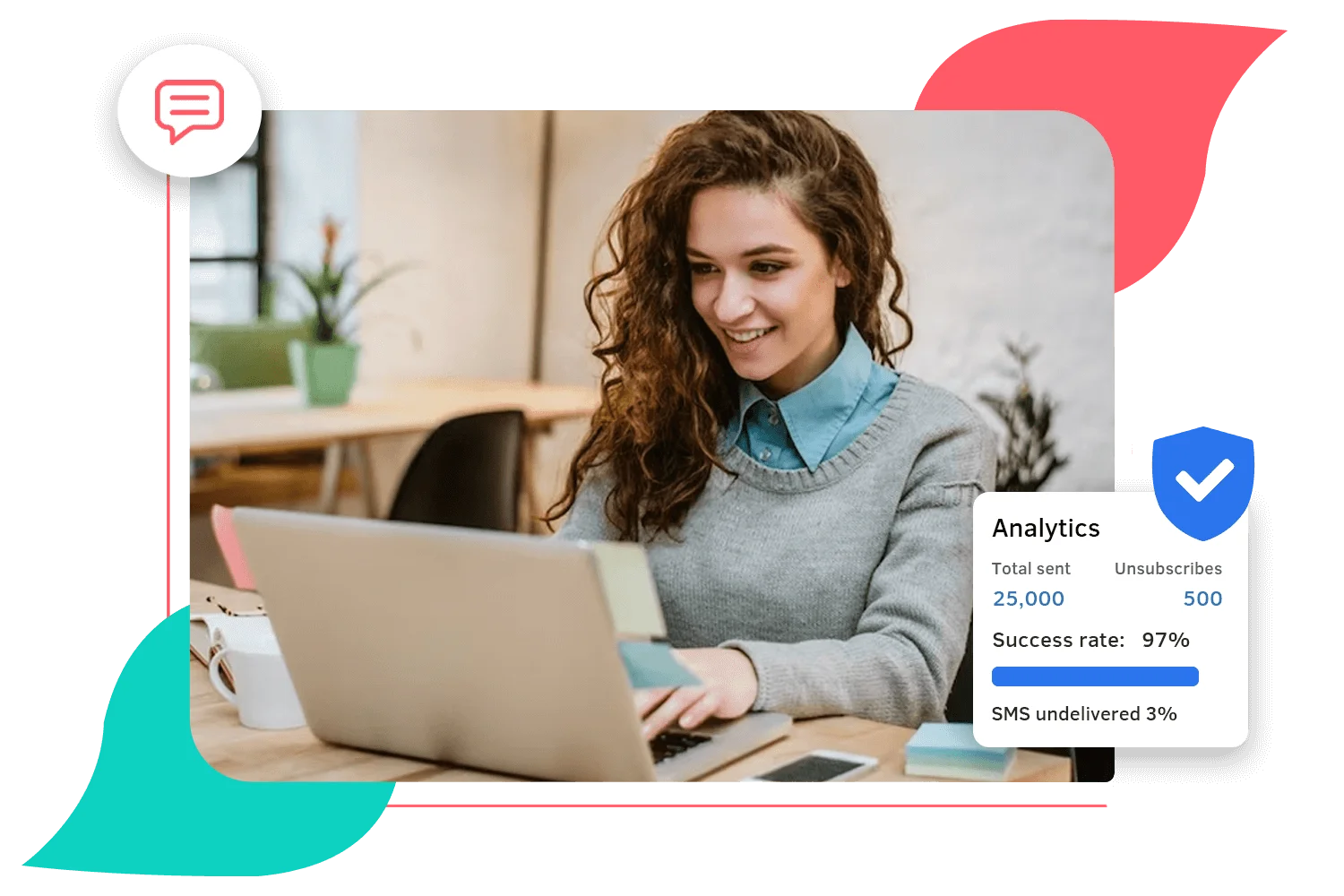 What is Bulk SMS?
bulk sms sending software refers to sending a large number of SMS messages to multiple recipients simultaneously. Some key points about bulk SMS:
 It enables businesses to reach a wide audience quickly and cost-effectively through SMS messaging.
Bulk SMS can be used for marketing campaigns, notifications, alerts, reminders, OTPs, etc.
Sending bulk SMS requires a software platform that can integrate with telecom operators to deliver messages reliably at scale. Popular providers include MSG91, Exotel, Route Mobile, etc.
Businesses need to upload contacts and create message templates to get started with a bulk sms sending software platform. Delivery reports help track send status.
Bulk SMS is more affordable than sending individual SMS and offers better deliverability than email. However, spam regulations need to be adhered to.
Opt-in consent, sender ID registration, and respecting unsubscribe requests are important when sending bulk SMS for compliance and deliverability.
In summary, bulk sms sending software allows instant one-to-many communication at scale while being cost-effective for most businesses. Care needs to be taken to use it responsibly.
Bulk SMS Service: Who is Using It and Why?
Bulk messaging, also known as mass texting, is a powerful tool that businesses can use to reach their customers directly. SMS messages are read by 98% of people within 3 minutes, making them an incredibly effective way to get your message seen.
Bulk messaging can be used for a variety of purposes, including:
Increasing customer engagement: You can use bulk messaging to send out reminders about upcoming appointments, promotions, or events. You can also use it to ask for feedback or to get customers involved in surveys.
Promoting products and services: Bulk messaging is a great way to announce new products or services, or to run special promotions. You can also use it to send coupons or discounts to your customers.
Sending time-sensitive alerts and notifications: Bulk messaging is ideal for sending out urgent alerts, such as weather warnings or school closings. You can also use it to notify customers about changes to your business hours or your product availability.
With over 6 billion people using smartphones around the globe, bulk messaging is a great way to reach your customers no matter where they are. If you're looking for a way to improve your customer communication, bulk messaging is a great option to consider.
Here are some additional benefits of using bulk messaging for businesses:
Cost-effective: Bulk messaging is a very cost-effective way to reach a large number of people.
Targeted: You can target your messages to specific groups of customers, such as your most loyal customers or customers who have recently purchased a product from you.
Measurable: You can track the results of your bulk messaging campaigns to see how they impact your business.
If you're looking for a way to reach your customers directly and effectively, bulk messaging is a great option to consider.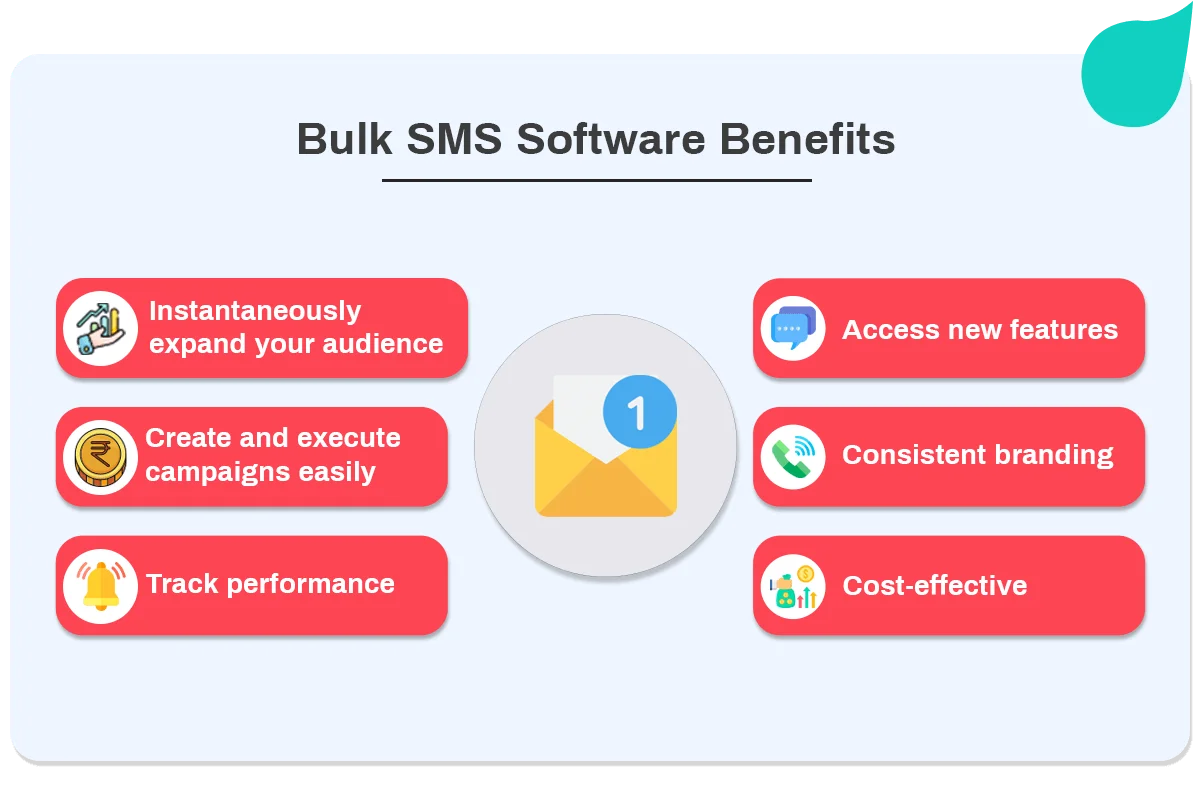 Benefits of Using Bulk SMS Sending Software
There are many compelling reasons businesses should be using dedicated software for managing bulk sms sending software rather than relying on manual efforts. Here are some of the top benefits:
Reach broader audiences instantly: bulk sms sending software enables you to store thousands of contacts and reach them all at the touch of a button. No more wasting hours manually sending SMS.
Create and execute campaigns easily: User-friendly platforms make it simple to set up SMS campaigns, schedule sends, personalize messages, and automate workflows.
Track performance: Robust reporting provides insights into deliverability, open rates, clicks, and other key metrics to optimize future SMS efforts.
Access new features: Regular platform updates provide access to new capabilities that manual SMS lacks, like automation, 360-degree customer views, and advanced analytics.
Consistent branding: Templates allow branding consistency across all SMS communications.
Increase productivity: With software handling the sending, your team is freed up to dedicate time to other priorities.
Cost-effective: Bulk sending software ultimately reduces costs compared to manual efforts.
With so many clear benefits, it's evident why leading companies rely on purpose-built software to unleash the true potential of bulk SMS marketing.
How to Send Bulk SMS from PC to Mobile
Download and install the program or Sign Up to the account by entering account Details.
Enter your account data (registration email and password).

Click on "More Options" link of the "Settings" section to customize the program workflow for yourself.

To start a campaign.
Why SmsLocal is the Best Bulk Sms Sender Software
Are you looking for an app to send mass text messages? SmsLocal is a free software that allows you to send bulk SMS messages via the internet. Simply install the app on your computer or laptop and start sending mass text messages. Our mass text message app uses the SmsLocal SMS Sender Gateway to send messages at an incredible speed.
To get started, simply register for an account on the SmsLocal Sender service. The price of sending mass SMS is the less cheaper than the online SMS sender rates.
Send group texts from your computer: You can send text messages to a select group of people or to a wider audience.
Use any sender name: The name that appears on recipients' phones when they receive your campaign can be a phone number or your company's name.
Account balance check system: Keep track of your mobile marketing budget in real time from your personal account.
1. Bulk SMS involves sending a large number of text messages simultaneously for marketing, communication, and information dissemination purposes.
2. Businesses and organizations use bulk SMS services to efficiently reach their target audience, including marketing agencies, educational institutions, healthcare providers, NGOs, and government organizations.
3. The blog includes a comparison table of the top 10 bulk SMS software tools and mentions the option to send bulk SMS directly from MS Excel, offering convenience for users who prefer working with spreadsheets.
Key Features to Look for in Bulk SMS Software
Not all bulk SMS software platforms are created equal. As you evaluate different solutions, here are some of the key features to look for:
Contact management system: A centralized database to easily store, organize, and access your recipient phone numbers. Segmentation tools are key for grouping contacts.
Message personalization: The ability to customize SMS content using merge tags and first name personalization.
Campaign scheduler: Schedule sends in advance and queue up recurring campaigns.
Delivery reports: Detailed logs provide real-time status alerts on SMS delivery and identify any errors.
Automation: Set up triggered SMS flows based on actions like deliveries, clicks, or date/time.
Analytics: In-depth analysis of open rates, clicks, unsubscribes and other metrics.
Surveys & polls: Interactive options to engage customers and collect data.
Multi-user access: Collaborative team workflows.
Templates: Create and reuse content templates for consistent branding.
API integration: Connect to sales, marketing and support software you already use.
Global capabilities: Features to manage country-specific SMS guidelines and best practices.
Choosing a platform equipped with these sophisticated tools will empower your SMS marketing strategy with professional-grade capabilities.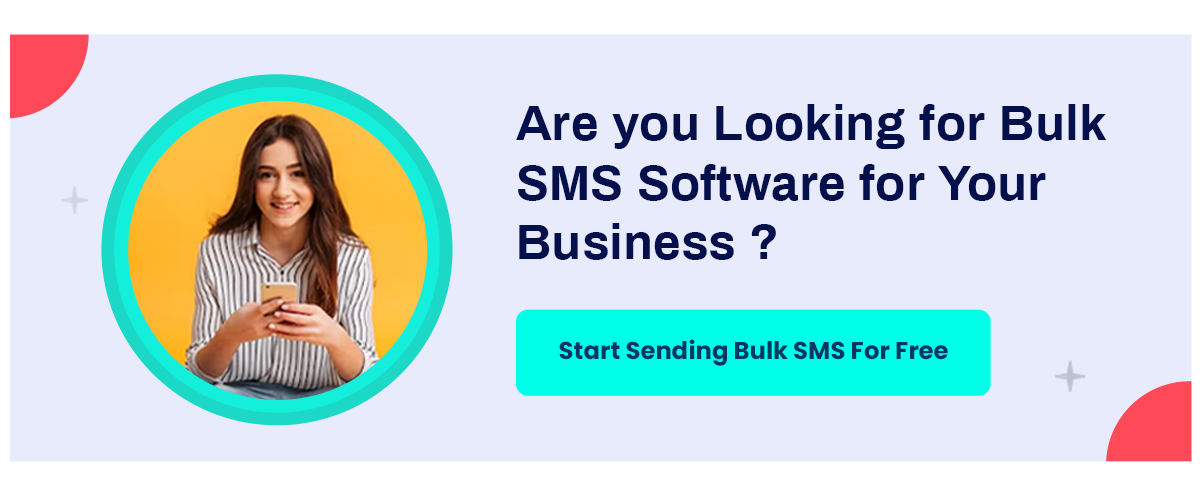 Top 10 Software To Send Bulk Sms
After looking at the key reasons for using bulk SMS software and must-have features, let's explore some of the top platforms available right now to power your SMS marketing efforts:
| Software Name | Free Trial Period | Features |
| --- | --- | --- |
| | | Send unlimited SMS, 24/7 customer support, White-label SMS platform, API integration, international SMS, 2-way SMS, Easy to use interface, Affordable pricing, Easy to use interface, Affordable pricing, All-in-one CRM platform |
| | | Send unlimited SMS, 24/7 customer support, Customizable templates |
| | | Send unlimited SMS, 24/7 customer support, API integration |
| | | Easy to use interface, Affordable pricing, 24/7 customer support |
| | | All-in-one CRM platform, SMS marketing, Contact management |
| | | Open-source platform, Highly scalable, 24/7 support |
| | | Easy to use interface, Affordable pricing, 24/7 customer support |
| | | Advanced analytics, white-labelling, 2-way SMS |
| | | Open-source platform, Highly customizable, Large community |
| | | API integration, international SMS, 24/7 support |
Smslocal Overview: Smslocal excels at making bulk SMS simple for small to medium businesses. Their intuitive web interface requires no technical skills to manage contacts, create messages, and analyze results.
Key features: Two-way messaging, reusable templates, sms chatbot tools, click tracking, contact groups, SMS scheduling, SMS templates, Customer Support, Mass Texting, Manage Sender ID, 2-Way Sms, Instant Message Delivery
SimpleTexting Overview: SimpleTexting is a fan favorite for US-based businesses. Their combination of ease of use and depth of features is hard to beat.
Key features: drip messaging campaigns, A/B testing, SMS forms, MMS image/video messaging, multi-user accounts, integrations, autoresponders.
TextMagic Overview: TextMagic excels at making bulk SMS simple for small to medium businesses. Their intuitive web interface requires no technical skills to manage contacts, create messages, and analyze results.
Key features: Two-way messaging, reusable templates, sms chatbot tools, click tracking, contact groups, SMS scheduling, SMS templates.
Avochato Overview: Avochato stands out for its comprehensive suite of automation, analysis and engagement capabilities for SMBs.
Key features: sms marketingcrm integration, SMS autoresponder workflows, visual drag-and-drop builder, A/B testing, SMS chatbots, detailed analytics.
SMSMagic Overview: SMSMagic makes bulk SMS simple and cost-effective for larger enterprises. Their reliability and scalability wins over bigger brands.
Key features: pooled global SMS credits, reusable templates, dynamic content tags, over 100 API integrations, SMS analytics, delivery receipts.
Burst SMS Overview: Burst SMS provides enterprise-grade capabilities combined with ease of use for businesses of all sizes.
Key features: sms scheduler, SMS autoresponder bots, intelligent analytics, multi-step campaigns, HIPAA compliance, dedicated account management.
Trumpia Overview: Trumpia is a popular SMS platform for the healthcare industry. It combines ease of use with advanced HIPAA compliance tools. Key features: two-way messaging, location-based messaging, customer lifecycle automation, HIPAA compliance auditing, SMS templates.
SimpleTexting Overview: Another great option for healthcare, 911inform specializes in emergency and appointment reminders via SMS and voice calls.
Key features: automated reminders by text or voice call, two-way messaging, calendar integrations, HIPAA compliant, Spanish language capabilities.
Plivo Overview: Plivo offers enterprise-level SMS capabilities with a powerful API for developers.
Key features: real-time two-way SMS, MMS capabilities, global SMS delivery, SMS analytics, developer-friendly API.
CM Telecom Overview: CM Telecom delivers robust international SMS capabilities combined with short code services. Key features: local in-country SMS delivery, pooled global messaging, real-time analytics, toll-free SMS short codes, easy API integration.
Twilio Overview: A popular platform for developers, Twilio makes it easy to integrate high-volume SMS into web and mobile apps.
Key features: real-time SMS webhooks, automated workflows, dev-friendly APIs, mass SMS scaling.


With this diverse mix of highly-capable software platforms, you're sure to find the perfect solution to meet your bulk SMS sending needs and take your SMS marketing to the next level. Don't wait – harness the power of dedicated bulk SMS software today!
Tips for Getting the Most from Bulk SMS Software
Once you've chosen and implemented your bulk SMS software platform, follow these tips to maximize results:
Properly import your recipient contacts – this gives you access to the full power of bulk sending. Segment your lists for more targeted messaging.
Take time to create optimized SMS content. Use dynamic tags, personalization and strong calls-to-action tailored to different segments.
Test your SMS campaigns across different devices and phone types to ensure consistency.
Make use of built-in automation to schedule sends, trigger auto-responses, send recurring reminders, and more.
Integrate your SMS software with your existing CRM, sales and support tools for seamless 360-degree workflows.
Closely analyze the detailed analytics and reporting to see what's resonating best with your subscribers and how you can improve engagements.
Continuously expand and optimize your contact lists based on response patterns.
Experiment with different message timing and frequency to see what drives most opens and clicks.
Stay up-to-date with new platform capabilities and features as they are launched.
Following best practices while leveraging your software's capabilities will ensure you get the highest ROI from your investment.
FAQs: Answers to Common Questions
How does bulk SMS sending software work?
Bulk SMS sending software automates and streamlines the process of sending a large volume of SMS messages simultaneously. It utilizes specialized algorithms to route messages efficiently, ensuring successful delivery to the intended recipients.
Can I personalize messages with bulk SMS sending software?
Yes, bulk SMS sending software offers various personalization options. You can customize messages with recipient names, past purchase history, location-based information, or any other relevant data to create a tailored and impactful messaging experience.
What are the legal considerations when using Free open source bulk SMS software?
Legal considerations include obtaining proper consent from recipients, providing opt-out mechanisms, and adhering to regulations regarding message content, frequency, and timing. Different regions and countries may have specific laws and guidelines that need to be followed to maintain compliance.
Which bulk sms sender software free offers the most affordable pricing?
The affordability of bulk SMS sending software depends on various factors such as the number of messages sent, desired functionalities, and additional features required. It is recommended to evaluate pricing models offered by different providers and choose the one that best aligns with your budget and business requirements.
Can I integrate Best free bulk SMS software with my existing CRM system?
Many bulk SMS sending software providers offer integration options with popular CRM systems, allowing seamless synchronization of customer data, contact lists, and messaging activities. It is advisable to check with the software provider regarding the compatibility and integration capabilities with your specific CRM system.
Conclusion
The power of bulk SMS sending software in revolutionizing modern communication cannot be overstated. By utilizing this technology, businesses can efficiently and effectively reach out to their customers, increase engagement rates, and drive desired actions. Through personalized messaging, targeted campaigns, and seamless integration with other channels, companies can create cohesive and harmonious marketing campaigns that deliver tangible results.
As the field of bulk SMS sending software evolves, it is crucial for businesses to stay updated on the latest trends, advancements, and legal considerations. By choosing the right software provider, strategizing effectively, and leveraging the capabilities of bulk SMS sending software, businesses can unlock the full potential of SMS communication and establish a competitive edge in their respective industries.
Embrace the power of bulk SMS sending software and witness the transformation it brings to your communication efforts. The future of SMS communication is promising, and with the right tools and strategies, businesses can truly unleash the power of this revolutionary technology.