Introduction to Automotive Sales With SMS
The way people are now buying cars is changing nowadays. They are not following the old traditional method of buying cars. Some big brands have recently introduced a new store concept where customers can choose what they want digitally and make payments easily. The automotive text message is Automotive Sales With SMS marketing also the automobile industry are slowly adapting this way.
Penetration of text messages in the automobile industry
More and more companies now understand the importance of automotive text message marketing. So they have started sending attachments of links in the SMS that will reach their target audience. Once this SMS comes from the person, they have to open the link to get all the information about the car.
More than 50 % of all car shoppers are using smartphones nowadays. Hence adapting automotive text message marketing makes a lot of sense for any big automobile company. This is adapted mainly by younger generations as they are always hooked on their smartphones.
Get complete information about the car via text message.
Get the best deal on your next car.
No more waiting in long lines at a dealership.
Research and buy cars from the comfort of your own home.
Compare prices and specs of thousands of different models.
The future of the automotive text message marketing Industry
The mobile search for cars through smartphones has increased by 50 % in recent years. As smartphones are getting better day by day, this is also giving a boost to car sales. This has also created a big market for automotive sales with SMS marketing.
Car manufacturers and wholesale retailers have also benefited from them as this has led to an increase in their sales big time. In addition, people have understood that they should not avoid automotive text message marketing as it is a medium by which you will be able to reach everyone.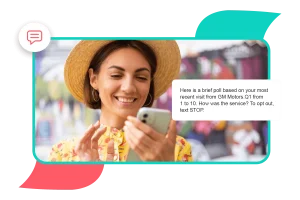 New technology in the automotive text message marketing 
It is estimated that by 2040, there will be an increase in the demand for hydrogen and electric-powered cars. But many people have no information about it. So they would use smartphones to get all the information about it, which is where automotive text marketing would come into the picture.
By this, we can say that automotive text marketing is the future. Many companies would send attachments with all the necessary information about their cars Automotive Sales With SMS with Bulk SMSs. This way, extensions will give the company correct information, and SMSs will give them a broader reach.
SMS Marketing in Automobile Industry
SMS shortcode or keyword helps you to grow your database organically & will allow them to interact with the consumer on a personal level. For example, you can use automotive sales With Automotive Sales With SMS marketing here to give sales a boost. This can also be used by individuals who wish to sell their second-hand cars.
They can highly use this to drive traffic to the company's websites. They simply need to format beautiful text and attach a link with it. This will give them information about car details and payment-making details. Hence this also makes the process of long-term sales much more manageable.
The Growth Of  Automotive Text Message Marketing, SMS Marketing 
Currently, it is said that the automotive industry is using Automotive Sales With SMS marketing at just 42.62% of its optimum amount. But it is studied that this figure is rising and will keep increasing for at least the next five years. Therefore, as SMS marketing keeps growing, consumers will also get involved in more engaging activities.
There are also options where companies can Automotive Sales With Automotive Sales With SMS marketing campaigns and receive accurate reporting. This will help the companies reach a wider audience by tracking all their activities properly. As a result, the marketing team can entirely focus on such activities and bring in more sales.
Conclusion
Going through this blog, we can conclude that you cannot ignore Automotive Sales With SMS Marketing if you wish to boost your automotive sales. It has been an effective medium before and will continue to be an effective medium even in the future. Hence companies should take this option seriously, which will, in turn, increase sales.