Introduction of promotional text messages examples or Marketing Campaigns for restaurants
Restaurants and takeaway businesses have been in existence for decades now.  They need to market their business and new offers time and again. Promotional text message examples or SMS Marketing Campaigns for restaurants that are big enough and can afford high-budget marketing activities do go ahead. , But the takeaways and small-time restaurants have to opt for Bulk SMS Marketing. 
Bulk SMS Communication
There have been instances when some small-time restaurant owners have sent Bulk SMS and have received a high number of bookings within hours. Bulk SMS marketing was introduced recently, but it has shown much growth. Marketing Campaigns For Restaurants help to grow in the market.
Recent stats have proved that consumers are more hungry for SMS marketing. In this way, we can say that Bulk SMS communication is beneficial not only for companies but also for consumers. The reason why consumers like this method of marketing are simply because it is not a hammering medium of marketing.
Advantages of using promotional text messages of Marketing Campaigns For Restaurants examples of restaurants
Send SMS messages to reach customers anytime, anywhere

Build customer loyalty and increase repeat business with SMS marketing

Automate your marketing efforts with SMS triggers

Keep up with the competition by using SMS alongside other digital marketing channels.
Some Special Discount Offers
Restaurants can come with unique discount offers where they can offer on-the-spot discounts on the menu once the customers text them back. Promotional text message examples for restaurants are a very engaging way of marketing to new consumers whom you want to visit your restaurant at least once.
These discount offers will help you to pull crowds to the restaurants in a beautiful way. In addition, there are some on-the-spot discount offers on the menu that are given to the customers. This is highly effective for people who have just started their new takeaway shops.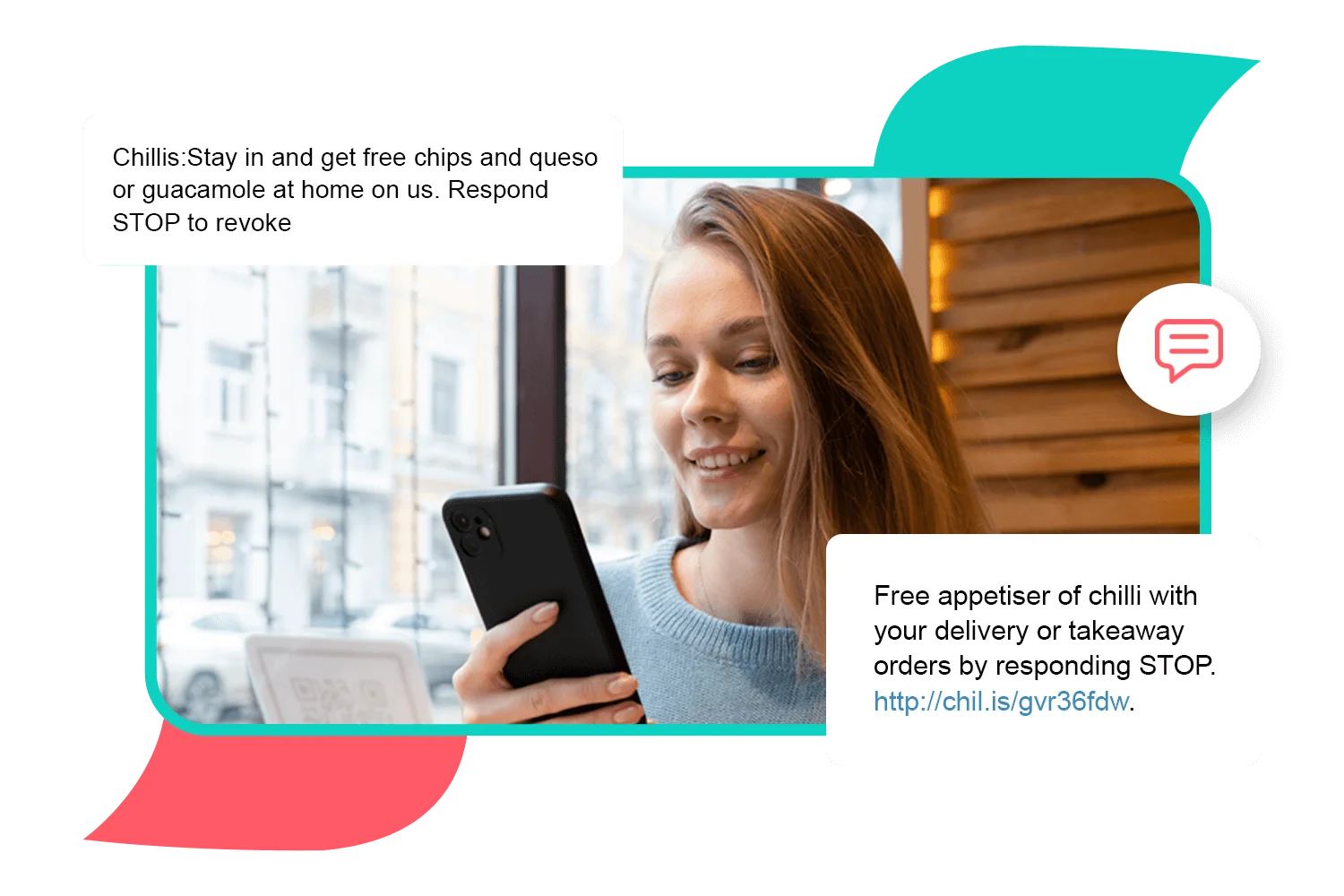 Instant Promotions and Happy Hours 
Restaurants and takeaways can use bulk SMSes by sending " First come, first serve " offers. They generally do this when they want to introduce some new dish or new product in the market. In addition, time-restricted offers are a great way to produce more bookings and orders. E.g., Limited offers, Offers valid up to 15th September, etc.
If you use promotional text message examples or Marketing Campaigns For Restaurants here, many people will come to know about the limited offers or discount offers that the restaurant offers. This will lead to many people rushing towards your restaurants or shop. This way, Bulk SMS can be a very effective medium to promote your food chain.
Customer Loyalty for promotional text messages examples for restaurants
The more the shops and restaurant owners send promotional text messages, the higher the chances that you will have the same customers visiting your store repeatedly. In this way, the restaurants and takeaways will make the customers realize their customers are valuable.
The higher the customer loyalty, the more your business will sustain in the long run. Everybody needs some fixed customers who come to their restaurants again and again; in this way, they will also come to know that some standing customers will go to them no matter what. Sending promotional text messages examples and Marketing Campaigns For Restaurants play an important role here.
Weekly and monthly specials sms marketing campaigns
You can introduce season specials on a weekly or monthly basis. You can offer unique flavors, dishes, offers, etc. But to do this, sending the promotional text of Marketing Campaigns messages examples for restaurants is very important. Customers will timely get updated about new introductions by your restaurants and takeaways.
Bulk SMS, therefore, plays an essential role here. It is one of the Marketing Campaigns For Restaurants. The owners must design your new offers well and send this SMS in Bulk. In this way, you can create awareness among many people in a brief period. This is why more and more owners are opting for this nowadays.
Conclusion
We can say that sending promotional text message examples for restaurants is very important to survive in the market. There are various Marketing Campaigns For Restaurants. So whether you are established or starting up new in the market, using Bulk SMS is an essential part of promoting your business activity. This is why if you are planning to come up with your new venture, you should go ahead with this option for promotion.